What questions should you ask a wedding videographer?
Your wedding video is something you will treasure for many decades (and, hopefully, watch many times during that period), so you want it to reflect your style as a couple – and give anyone watching it a true picture of what your big day was like.
The do this, you must not only find a wedding videographer who is great at what they do but also one that suits you and your partner's style and personalities.
Obviously, the overall look and feel of your final wedding video will depend on your budget and the videographer you choose, but here are some questions every couple should ask potential wedding videographers before signing on the dotted line.
Are You Available On Our Wedding Date?
It may sound obvious, but many videographers are booked months, if not years, ahead, especially the really good ones. So, before you launch into your questions and ask about their offerings, find out if they're even free on your wedding date.
What Is Your Style Of Videography?
If you're at the stage of speaking with a wedding videographer, you should already have perused their portfolio to get a rough feel of what their story-telling style is because there is no such thing as a standard wedding video and not every style suits every couple.
Perhaps you prefer wedding videos shot in the cinematographic style of a movie? Or, maybe, you're partial to a fast-paced news style or a slower, more documentary style where your love story will unfold? You'll only know what style your potential wedding videographer shoots if you've watched their show reels and/or videos of previous weddings.
If you like their general style, but want something a little different, don't immediately discount them. Ask the question: what other styles can you shoot in?
Why? Because they may have multiple camera operators and editors who can shoot and cut video in your preferred style even though their show reel doesn't necessarily reflect it.
What Is Your Videography Background?
Following on from the previous question, ask about your wedding videographer's background because they can be quite diverse, from self-taught practitioners who are true video artists to those trained at film school or at a TV station or on a film set.
Your videographer's background will affect their style of videography, but also how they do things overall. It's wise to ask about sort of training and experience the person you're putting in charge of recording your big day has.
How Many Weddings Have You Filmed?
No matter how experienced your videographer when it comes to filming and editing, you definitely want to know how many weddings they'll have filmed prior to your own big day.
Filming a wedding is vastly different from filming, say, a TV commercial or a film. Weddings are about capturing certain key moments and conveying the feel of your big days and telling a story. You want to know that your videographer, no matter how technically perfect he or she may be, will be able to read the mood of your event and, of course, record your big day without missing out on key moments.
This only comes with experience, so you probably don't want your wedding to be a videographer's first job.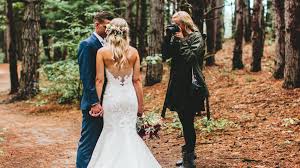 Can i see a full-length example of one of your wedding videos?
All good videographers show multiple short example videos on their websites, like little trailers to promote their films. But, like a film trailer, only the very best bits of the longer, main video are used. What you need to make sure is, if you book this person to film the most important day of your life, the rest of your video will be the same standard as the stuff used in the trailer/sample video.
Have You Ever Worked With My Photographer?
Both your videographer and photographer will both be trying to capture the same moments so they'll need to work together to avoid getting in each other's way. If they haven't had experience working together before, make sure they are put in touch to co-ordinate beforehand. Often a photographer or videographer will be able to recommend someone they've worked with and trust in the past.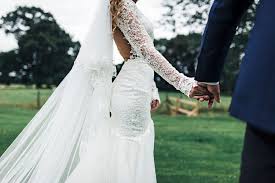 Is There A Travel Charge For My Wedding?
Why You Want to Know: You want to make sure there are no additional fees on top of the package you've selected. Some videographers will have a trip charge based on how far away your venue is from their home base. Make sure you're aware of these charges before you book.
How Well Do You Work With Other Vendors? Such As The Photographer?
Why this is a good question to ask: Your videographer has a very important role to play on the day of your wedding. They will need to interact with multiple vendors, such as the photographer, DJ, and wedding coordinator, in order to deliver you the best wedding film. The photographer and videographer will work closely throughout your wedding day to film all of the highlights of the day. They will also need to work closely with the DJ in order to capture all of your important speeches, such as the ceremony, vows, toasts, etc. Because of this, you'll want to make sure your videographer is a people person and can work well with all vendors.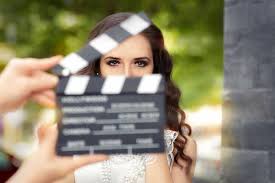 Can I Choose The Music For The Film?
Many videographers are more than happy to do that, so have a discussion with them and have a list of favourite tunes at the ready. If they can't use your exact song selection they might come up with great alternatives along the same vibe.
Who Will Own The Copyright?
This is important as any additional copy will have to be paid for separately.
How Many Copies Of The Film Do I Get? And How Much Does It Cost If We Want To Buy Extras?
If you want to distribute the video to all your relatives abroad, you may want to find out how much an extra video costs before you make any promises!
How Far in Advance Should I Book?
If you already know that you want a wedding videographer, it's best to start the search early on in your engagement. You'll want to have time to research different vendors and ensure that they have your wedding date available. In addition to asking about availability, ask how far in advance you should book.
Due to their demand, popular videographers may book out far in advance, which means that it'll be necessary to make a decision fairly quickly. You don't want to get through your consultations and come to find out the person you want to work with isn't available to shoot your wedding.
How Is Pricing Decided?
One of the main wedding videographer questions is how pricing works. Pricing for videographers runs the gamut, with some being hourly and others offering packaged services. Expenses start in the hundreds and quickly run into thousands of dollars, based on experience, quality, and demand for the videographer you're interviewing. Walk through his or her pricing model and ask what's included. Things to note are:
How many videos will you receive?
Will you get a digital copy and a hard copy?
How many hours are included?
Is there an additional fee for a second videographer?
There are various factors that could alter the amount of work your prospective videographer needs to do, which, ultimately, will alter the price. Once you've decided on a wedding videographer you like, make sure you read through the contract thoroughly and ask any additional questions to ensure that you know exactly what to expect.