Most Common Eye Problems
More than 4.2 million Americans aged 40 years and older are either legally blind (having best-corrected visual acuity of 6/60 or worse (=20/200) in the better-seeing eye) or are with low vision (having best-corrected visual acuity less than 6/12 (<20/40) in the better-seeing eye, excluding those who were categorized as being blind).
The leading causes of blindness and low vision in the United States are primarily age-related eye diseases such as age-related macular degeneration, cataract, diabetic retinopathy, and glaucoma. Other common eye disorders include amblyopia and strabismus.
Age-Related Macular Degeneration
Macular degeneration, often called age-related macular degeneration (AMD), is an eye disorder associated with aging and results in damaging sharp and central vision. Central vision is needed for seeing objects clearly and for common daily tasks such as reading and driving. AMD affects the macula, the central part the retina that allows the eye to see fine details. There are two forms of AMD—wet and dry.
Wet AMD is when abnormal blood vessel behind the retina start to grow under the macula, ultimately leading to blood and fluid leakage. Bleeding, leaking, and scarring from these blood vessels cause damage and lead to rapid central vision loss. An early symptom of wet AMD is that straight lines appear wavy.
Dry AMD is when the macula thins overtime as part of aging process, gradually blurring central vision. The dry form is more common and accounts for 70–90% of cases of AMD and it progresses more slowly than the wet form. Over time, as less of the macula functions, central vision is gradually lost in the affected eye. Dry AMD generally affects both eyes. One of the most common early signs of dry AMD is drusen.
Drusen are tiny yellow or white deposits under the retina. They often are found in people aged 60 years and older. The presence of small drusen is normal and does not cause vision loss. However, the presence of large and more numerous drusen raises the risk of developing advanced dry AMD or wet AMD.
It is estimated that 1.8 million Americans aged 40 years and older are affected by AMD and an additional 7.3 million with large drusen are at substantial risk of developing AMD. The number of people with AMD is estimated to reach 2.95 million in 2020. AMD is the leading cause of permanent impairment of reading and fine or close-up vision among people aged 65 years and older.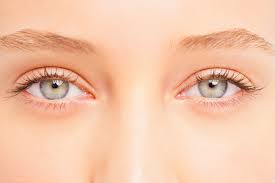 Cataracts
Characterized by a cloudy, milky white lens in the eye, most cataracts are age-related and more common in people over 50 (but can develop at any age). Cataracts can be the result of injury, UV exposure, or protein deterioration over time; this is what causes the eye's lens to cloud. If left untreated, cataracts can ultimately cause severe vision loss.
Treatment: Fortunately, cataracts are a common eye problem that can be treated through surgery. Whether surgery is needed depends on the degree of vision loss and whether it affects your quality of life and ability to function.
Keratoconus
Normally, the cornea (the clear outer lens of the eye) has a dome shape, like a ball. Sometimes, however, the collagen which holds the cornea in place becomes weak, causing the cornea to become cone shaped. This condition is called keratoconus. This can cause serious loss of vision if not treated early and quickly. Left untreated, many people will need a cornea transplant.
Treatment: Treatment usually starts with eyeglasses. Contact lenses, usually rigid gas permeable ones, may be recommended to strengthen the cornea and improve vision. In addition, cornea collagen crosslinking is often effective to help prevent progression, as well as intacs (implants placed under the surface of the cornea to reduce the cone shape and improve vision). A last resort is a cornea transplant.
Diabetic Retinopathy
Diabetic retinopathy occurs as a result of prolonged high blood sugar associated with types 1 and 2 diabetes and can cause blindness if left untreated. Too much blood sugar can alter the blood vessels in the back of the eye, preventing the retina from receiving the proper amount of nutrients it needs to maintain vision. Anyone with diabetes type 1 or type 2 is at risk of developing diabetic retinopathy. However, the type of diabetes a person has, how often their blood glucose fluctuates, how well they control their sugars, and how long they have had diabetes all affects his/her risk.
Treatment: In most cases, laser surgery can prevent significant vision loss associated with diabetic retinopathy. A procedure called laser photocoagulation can seal or destroy growing or leaking blood vessels in the retina.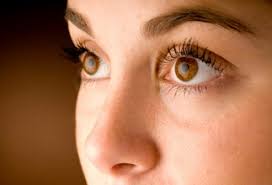 Glaucoma
Glaucoma is a group of diseases that can damage the eye's optic nerve and result in vision loss and blindness. Glaucoma occurs when the normal fluid pressure inside the eyes slowly rises. However, recent findings now show that glaucoma can occur with normal eye pressure. With early treatment, you can often protect your eyes against serious vision loss.
There are two major categories "open angle" and "closed angle" glaucoma. Open angle, is a chronic condition that progress slowly over long period of time without the person noticing vision loss until the disease is very advanced, that is why it is called "sneak thief of sight." Angle closure can appear suddenly and is painful. Visual loss can progress quickly; however, the pain and discomfort lead patients to seek medical attention before permanent damage occurs.
Strabismus
Strabismus involves an imbalance in the positioning of the two eyes. Strabismus can cause the eyes to cross in (esotropia) or turn out (exotropia). Strabismus is caused by a lack of coordination between the eyes. As a result, the eyes look in different directions and do not focus simultaneously on a single point. In most cases of strabismus in children, the cause is unknown. In more than half of these cases, the problem is present at or shortly after birth (congenital strabismus). When the two eyes fail to focus on the same image, there is reduced or absent depth perception and the brain may learn to ignore the input from one eye, causing permanent vision loss in that eye (one type of amblyopia).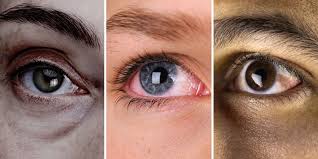 What You Need to Know About Blindness
If you're partially blind, you have limited vision. For example, you may have blurry vision or the inability to distinguish the shapes of objects. Complete blindness means you can't see at all.
Legal blindness refers to vision that's highly compromised. What a person with regular vision can see from 200 feet away, a legally blind person can see from only 20 feet away.
Seek medical attention right away if you suddenly lose the ability to see. Have someone bring you to the emergency room for treatment. Don't wait for your vision to return.
Depending on the cause of your blindness, immediate treatment may increase your chances for restoring your vision. Treatment may involve surgery or medication.
What are the symptoms of blindness?
If you're completely blind, you see nothing. If you're partially blind, you might experience the following symptoms:
Cloudy vision
An inability to see shapes
Seeing only shadows
Poor night vision
Tunnel vision
What causes blindness?
The following eye diseases and conditions can cause blindness:
Glaucoma refers to different eye conditions that can damage your optic nerve, which carries visual information from your eyes to your brain.
Macular degeneration destroys the part of your eye that enables you to see details. It usually affects older adults.
Cataracts cause cloudy vision. They're more common in older people.
A lazy eye can make it difficult to see details. It may lead to vision loss.
Optic neuritis is inflammation that can cause temporary or permanent vision loss.
Retinitis pigmentosa refers to damage of the retina. It leads to blindness only in rare cases.
Tumors that affect the retina or optic nerve can also cause blindness.
How is blindness treated?
In some cases of vision impairment, one or more of the following may help restore vision:
eyeglasses
contact lenses
surgery
medication
If you experience partial blindness that can't be corrected, your doctor will provide guidance on how to function with limited vision. For example, you can use a magnifying glass to read, increase the text size on your computer, and use audio clocks and audiobooks.
Complete blindness requires approaching life in a new way and learning new skills. For example, you may need to learn how to:
read Braille
use a guide dog
organize your home so you can easily find things and stay safe
fold money in distinct ways to distinguish bill amounts
You can also consider getting some adaptive products, like a specialized smartphone, color identifier, and accessible cookware. There's even adaptive sporting equipment, like sensory soccer balls.