How can I save money on my kitchen remodel?
Did you know that remodeling your kitchen is one of the best ways to add value to your home? It's the most lived-in room of the home, so it's important to keep it up to date, for your own satisfaction as well as for any potential buyers. The downside, however, is that kitchen remodeling can also be incredibly expensive. So how do you maximize your home's value on a budget? We're glad you asked. Here are some easy and affordable solutions to revamp the look of your kitchen for far less than a costly remodel.
Reface existing cabinets
Hands down, this is the easiest way to give your kitchen an inexpensive yet dramatic makeover. If your cabinet drawers and doors are in good shape and don't need to be replaced, you can save thousands of dollars by simply refacing them. It can be a tedious project once you get started, but within a week, your kitchen will look refreshingly new. Here are a few tips if you plan on refacing your kitchen cabinets on your own:
First of all, ensure that your cabinets can be refaced. You can only reface cabinet faces that are real wood or made from MDF board—laminate doors can not be refaced.
Prep all cabinet faces to be painted by sanding them first with 220-grit sandpaper.
Choose a darker stain than your existing cabinets. You can use a gel-stain, latex, or oil-based, but regardless of the type you choose, it's very important to buy a top-quality paint, since the paint is what will make the most difference in your kitchen. Gel-based stains produce a robust color, since the gel sits on "top" of the wood, versus other types of stains, which permeate into the wood fibers—thus losing some of that deep, rich color.
An oil paint with a semi-gloss gives a more polished, professional look.
Consider buying a spray gun. They're inexpensive, relatively easy to use, and can be found at any home hardware store. For around $150 you can buy a quality spray-gun and an air compressor—compared to the cost of brand-new cabinets, which could run you close to the $15,000 mark. If you choose latex paint, you may have to thin out your paint with distilled water; if it's oil-based, you will want to use a compatible thinner, so check the can for more details.
Remove all of your doors and spray or brush-paint them flat for the best results. You can actually construct your own "painting station" by easily installing two screws into a board to lay the cabinet flat and allow you to paint both sides. If you're unable to lay your cabinet doors flat, you can hang the doors from a ladder with wire to paint or spray them, but be on the lookout for more paint runs if you choose that method.
To save yourself time, simply brush-paint the boxes of the cabinet instead of spraying them—they don't get as much visibility as the cabinet doors.
Finish your refacing with a clear coat for a polished, even gloss.

Go with ready-to-assemble cabinets.
The biggest cost in a kitchen remodel is new cabinets. The most expensive option is going custom, for which the cabinetry is designed, built and installed to specifically fit your space. Exotic woods, ornate details and period styles will add to the cost and delivery time but result in a one-of-a-kind kitchen. Custom cabinets can cost $10,000 to $60,000, as cabinets can range from $250 to $1,500 per linear foot.
Keep existing cabinets if possible.
If your cabinets are good quality and you like the style, resurfacing is a great option. It's amazing how color can transform a kitchen and a few coats of paint can give life to a once-drab space. Resurfacing and painting make for the most cost-effective option, but ensure that you take the steps needed to get a beautiful finish.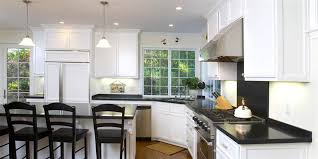 Appliances.
Be practical and look for energy-efficient appliances with warranties—arguably, you'll use appliances more than other features in your kitchen. But be sure to maintain a balance between what you spend on appliances and cabinets. If you choose appliances first without considering cabinets/hardware, countertops or other features, you can box yourself into a floor plan and end up without enough money to spend on other features.
But be careful which appliances you spend on. For example, a refrigerator may need replaced in 15 years or sooner, but a cooktop will last longer. Spend there. If you have children and dirty dishes are a way of life, invest in a quality dishwasher or dishwasher drawers that make your life easier.
Across the board, stainless steel is the most popular choice and what buyers look for in a home.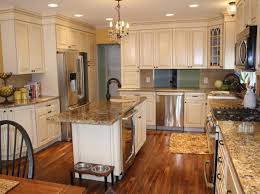 Do things in the right order
This is a common mistake I see, and it can cost money and time on your project. And, even worse, it may limit your options, especially as it comes to your flooring choices. Generally, you first demo everything down to the floor and then you build it back up…from the flooring up. So you install your flooring, then you cabinets, then countertop, then backsplash and finally molding and painting. When you skip steps, things don't come out as well, and they need to be redone. That costs extra money and extra time.
A very common mistake I see is when people can't afford to do the whole kitchen at once, so they do it in piecemeal. This is fine…as long as you do it in the right order and plan ahead. Too many times I've seen homeowners do the cabinets and countertops first…and then the flooring two years later when they can afford it. The problem with this is that often there is not enough room for hardwood floors (which are 3/4″ thick) or tile for that matter (which comes out to a similar height when you factor is a mud job or backer board. You see this makes the cabinets too low. So the new flooring creates a weird height difference and makes the cabinets feel and look too low. Worse than this, the dishwasher won't fit (or will get locked in). And the stove becomes higher than the countertop. Plan ahead. If you're going to do this, add 3/4″ plywood underneath the cabinets so that everything will be properly aligned when you add the flooring.
Add new trim
Even if you hire someone to make custom trim for your kitchen, you'll still save thousands of dollars by using your existing cabinets—and you'll see just how drastically a change in trim can revamp your kitchen's look. Adding crown molding trim or under-trim can transform your box cabinets with the look of custom built-ins—and if your cabinets have a lot of space at the top, adding crown trim will draw the eye upward and make your kitchen look bigger. Plus, with newer trends of mixing wood colors, it's not as important to have uniform color anymore, so you may even save money by mixing wood trim color.
Use your existing kitchen layout
If you're happy with your kitchen layout and are just craving a fresh update, work with your contractor or kitchen builder to maintain as much of your current layout as possible for a huge cost savings. Moving the actual layout of a kitchen—such as moving the position of an oven or a sink or a wall—will involve changing wires and plumbing, at much higher costs.